IGNOU PGDDM Solved Assignment 2023 Welcome to our website, where we take pride in providing high-quality solved assignments for the IGNOU PGDDM (Post Graduate Diploma in Disaster Management) program. We understand the challenges that students face in completing their assignments, and we are here to offer a comprehensive solution to help you succeed in your academic journey. With our meticulously crafted solved assignments JAN & JULY 2023, you can tackle your coursework with confidence and achieve excellent grades.Here you can Find All solution of this course just click this link and download pdf.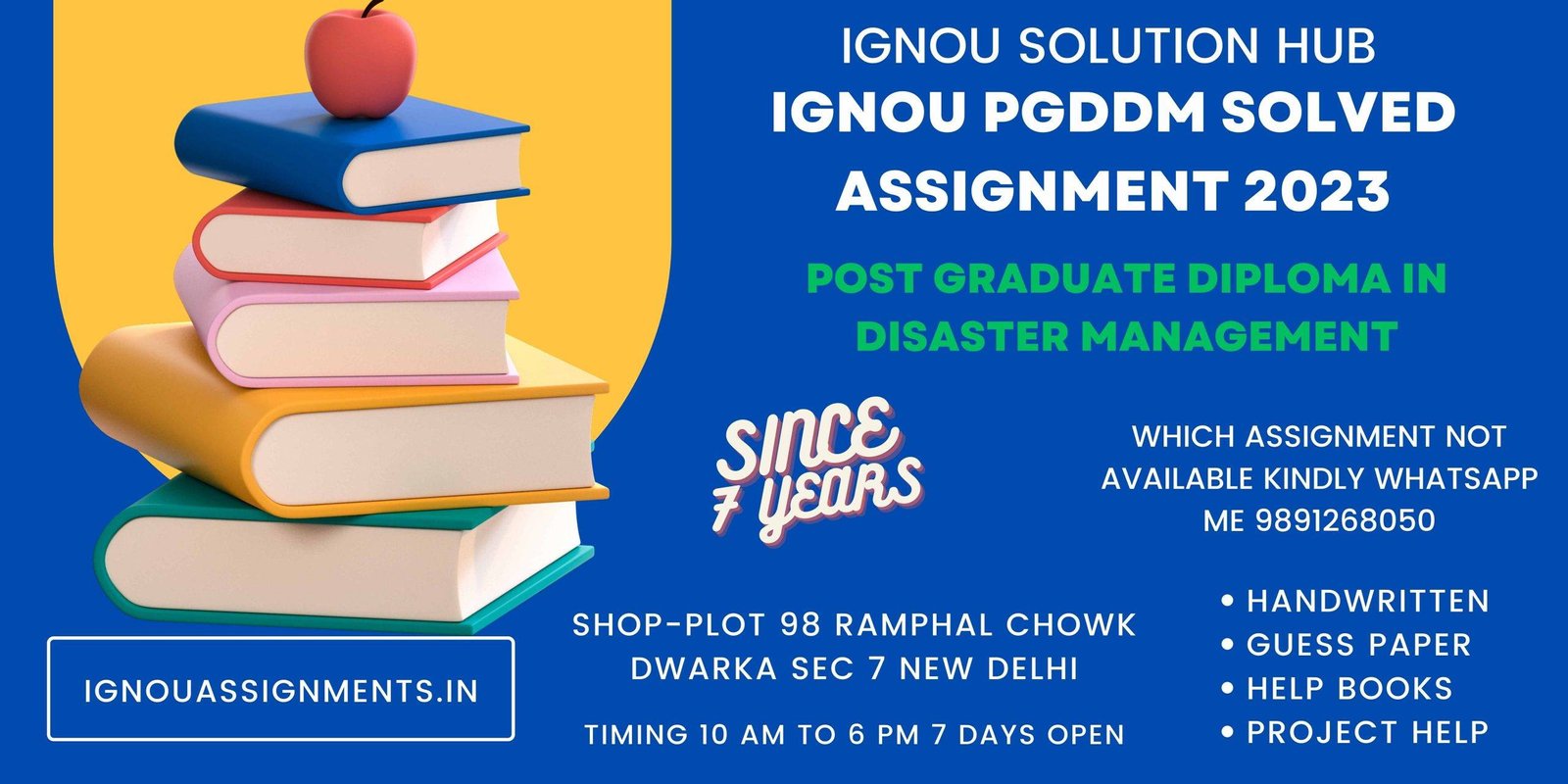 Download link Below:
| | | | |
| --- | --- | --- | --- |
| Course Code | Course Name | HINDI | ENGLISH |
| MPA-01 | Understanding Natural Disasters | | PDF |
| MPA-02 | Understanding Man-Made Disasters | | |
| MPA-03 | Risk Assessment and Vulnerability Analysis | | PDF |
| MPA-04 | Disaster Preparedness | | |
| MPA-05 | Disaster Response | | PDF |
| MPA-06 | Disaster Medicine | | |
| MPA-07 | Rehabilitation, Reconstruction, and Recovery | | |
| MED-04 | Towards Participatory Management | | |
| MPAP-01 | Project Work | | |
IGNOU PGDDM Solved Assignment 2023 Submission Of Solved Assignment
You need to submit all the assignments within the stipulated time for being eligible to appear in the term-end examination. The completed assignments should be submitted as per the following schedule.
Session
Last Date of Submission
To be Sent
January 2023 Batch

July 2023 Batch

September 30, 2023

March 31, 2024,

To the Coordinator of the Study Centre allotted to you
Date will be extended according to IGNOU notice
WISH YOU ALL THE BEST!
 IGNOU PGDDM QUESTIONS PAPER DOWNLOAD LINK GIVEN BELOW:

Why Choose Our IGNOU PGDDM Solved Assignments?
Accuracy and Quality: Our team of experienced subject matter experts and professionals have carefully solved the assignments, ensuring accuracy and adherence to IGNOU guidelines. We maintain a high standard of quality to provide you with reliable solutions that meet the requirements of each assignment.
Comprehensive Coverage: We cover all the subjects and topics included in the IGNOU PGDDM program, ensuring that you have access to solved assignments for every course. Whether it's Disaster Management Concepts, Risk Assessment and Vulnerability Analysis, Emergency Response Planning, or any other subject, we've got you covered.
Time-Saving and Convenient: Our solved assignments save you precious time and effort by providing well-structured answers that can serve as a reference for your own work. Instead of spending hours researching and struggling to find the right solutions, you can focus on understanding the concepts and enhancing your learning experience.IGNOU PGDDM Solved Assignment 2023
Enhance Understanding and Performance: By studying our solved assignments, you gain insights into the thought process and approach required to tackle each question effectively. This helps you grasp the concepts better and improves your overall performance in exams and assignments.
Stay Updated with 2023 Assignments: We are committed to keeping our solutions up-to-date with the latest curriculum of IGNOU PGDDM for the year 2023. With our solved assignments, you can be confident that you are working with the most relevant and current materials.
Note: It's important to utilize the solved assignments as a reference and learning aid. Use them to enhance your understanding, customize the content as per your style, and avoid submitting them as your own work to maintain academic integrity.
What are these assignments?
The assignment is very important in IGNOU University we can't pass only by giving the exam we have to submit the assignment because the assignment takes 30% weightage in the Final Examination.
How can we check our assignment status?
Can we submit assignments late?
No, we can't submit IGNOU assignments late. The Late fee is not for Late Submission of Assignments Actually, there's NO Fee at all to submit the signed Assignments.
Hence, if we don't want to submit a late fee, then either submit the assignment and examination form before or on March 31st or September 30.
How can we get good marks in IGNOU PGDDM assignments?
To get good marks in IGNOU assignments we should follow the following methods:
(a) The matter (answers) should be ours.
(b) We should not copy the answer to each and every question from the internet or our study material.
(c) We have to write answers in our language while writing assignments.
(d) The more we show our efforts in writing, the more we will be noticed while checking the assignments.
(e) The presentation matters.
(f) The pages of our work should be properly attached inside a file.
(g) All answers should be written in good handwriting.
(h) Proper indentation must be used.
(i) Each and every answer should be properly numbered.
(j) Only white A4 sheets should be used while writing answers.
(k) A copy of printed assignments should be attached at the starting of the file along with the assignment code for further reference.
Is it Compulsory to submit assignments?
Yes, every IGNOU students have to write and submit assignments to SC before the due date. If any student failed to submit then he/she cannot attend the Term End Exam conducted by IGNOU University. We can also get bits of help from IGNOU Solved Assignments to prepare the best assignment sheet for submitting to the center.